Waterwise Garden and Landscape Consultation
We can help you convert your lawn or other area, create lasting beauty, and save significantly from past or existing water use.
Waterwise gardening and landscaping are key components in the goal of greater water conservation. At Sierra Azul Nursery & Gardens, we have been growing and selling native and Mediterranean climate plants, as well as designing and consulting on water-wise gardens and lawn-to-plants conversions for the last 20 years. Owner Jeff Rosendale started with this effort 40 years ago during the historic drought of 1975-76.
Significant water savings can be realized by converting a 30'x30′ sprinkler irrigated lawn/turf area to an attractive xeriscape planting on drip irrigation. A normal twice-weekly watering of this size lawn would use approximately 800 gallons/ week. Converting this total lawn area to a native/ mediterranean and succulent plant garden and planting approximately 60 plants irrigated by 1 gallon per hour drip emitters would result in the new water use of approximately 100 gallons/ week. This is a significant 700 gallons  per week savings or a  reduction in water usage of up to 90%.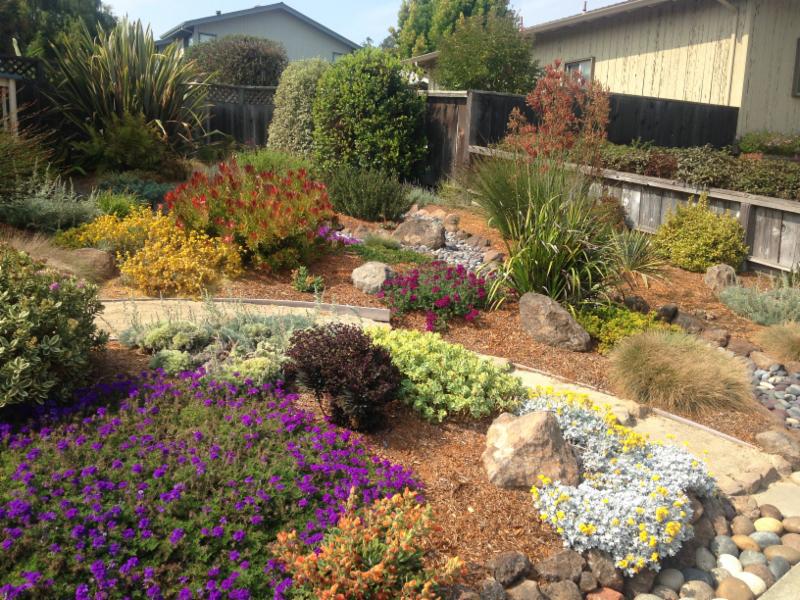 Waterwise Garden and Landscape Consultation
Include address & any info about your project


$225.00 – Basic Consultation – at your yard and our nursery & garden – 2.5 hours/with sketches and plant selection.
(includes 15% plant discount on project purchases)
Xeriscape
"A method of landscaping that emphasizes water conservation in its use of efficient irrigation and drought-resistant plants."